Pediatric Ophthalmology and Adult Strabismus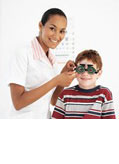 Note: Our practice is now open again! We ask that our patients continue to order their contact lenses here. (They will be shipped directly to you.)
---
Welcome to St. Louis Eye Care Specialists LLC. Using state-of-the-art technology and having over 15 years of clinical and surgical experience, our goal is to provide the very best vision care in a warm and caring environment.
Dr. Andrew N. Blatt specializes in both Pediatric Ophthalmology and Adults with complex eye muscle disorders. Dr. Blatt is a fellowship trained, board certified ophthalmologist who has established a large practice in his native St. Louis.
Dr. Blatt is currently a Clinical Assistant Professor in the Department of Ophthalmology and Visual Sciences at Washington University School of Medicine. Dr. Blatt completed his undergraduate studies at Duke University. He earned both a Master's Degree and Medical Degree from Washington University School of Medicine in 1992.
Following an Internship year at Emory University, he completed a Residency in Ophthalmology at Barnes Hospital at Washington University School of Medicine. He then completed a Pediatric Ophthalmology and Adult Strabismus Fellowship at New England Medical Center at Tufts University School of Medicine.

Dr. Rachel Merriman graduated with honors from the University of Missouri-St. Louis College of Optometry in 2007. Dr. Merriman is a native of St. Charles, graduating from St. Charles West High School and then from Missouri Baptist University in St. Louis with a bachelor of science in Biology. She is a member of the American Optometric Association, the Missouri Optometric Association, and the St. Louis Optometric Society.

St Louis Eye Care Specialists LLC
675 Old Ballas Rd. Suite 220
St. Louis., MO 63141

Phone: 314-997-3937

Fax: 314-997-3911

Office Hours:

Visit our

Facebook Page